Tandem skydive
the jump of your life
Interested in a tandem skydive in the Alps? Have you ever wanted to jump from a plane?
Experience freefall over lakes surrounded by mountains in Zell am See or Gmunden. Enjoy incredible panoramic views during the 20-minute plane journey to altitude. Tandem skydiving means 40 to 60 seconds of freefall.
Securely attached to a professional skydiving instructor, you'll plummet towards the ground from an altitude of 3000 to 4000 metres. You'll accelerate to speeds of up to 200 km/h before your main parachute opens. Once under canopy, you can admire the spectacular scenery and enjoy a birds-eye view of Lake Zell and Lake Traunsee.
Follow us and stay up-to-date
An unforgettable experience
you'll remember forever
Upon request, you can also get photos and an HD video of your tandem skydive as a keepsake.
Don't worry, you won't be jumping into cold water – we'll let you "hang in the air" instead. Alpenfreifall GmbH is Austria's first full-time tandem skydiving operation.
Breathtaking gift
for people of all ages
Give the gift of an unforgettable experience with a tandem ticket! It can be redeemed for any of our booking dates and is valid at each of our dropzones.
Please also take note of the requirements which the gift recipient must fulfil.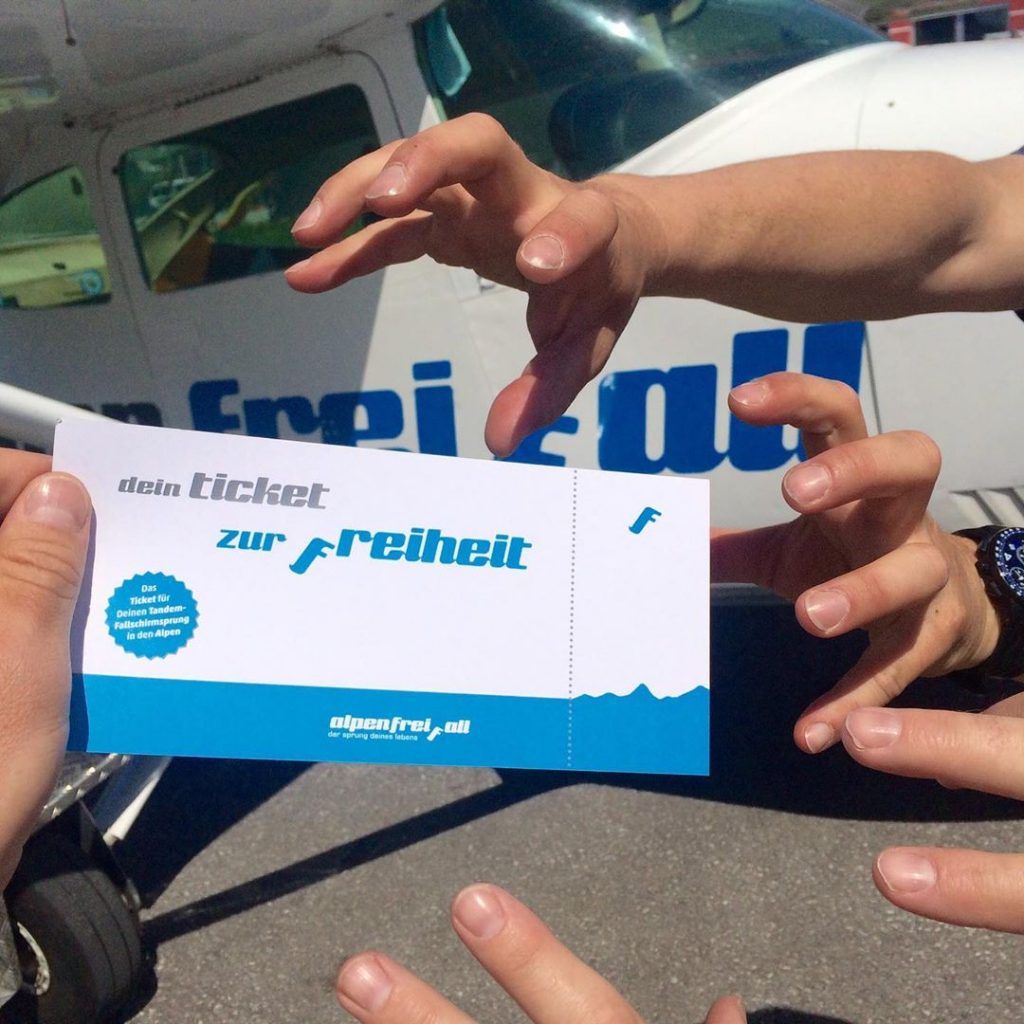 What do our customers say?
"Besonders nette Leute, sehr genaue Erklärungen. Sehr auf Sicherheit bedacht, damit der Sprung ein einzigartiges Erlebnis ist und bleibt! Danke vielmals"
Peter & Christian - 06.08.2022
"Unbeschreibliches Abenteuer!! Sehr gut organisiert! Wenn man erst mal Blut geleckt hat, muss man immer wieder mal springen ! Ein perfektes Geschenk!"
Leonie und Simone - 24.07.2022
"Tolle Mitarbeiter - super freundlich und mega hilfsbereit. Ein unbeschreibliches Erlebnis!"
Anonym - 22.07.2022
"Super tolles Erlebnis, lauter coole und nette Leute, sehr zu empfehlen!"
Sandro Kalin - 20.07.2022
"I had an amazing sky dive with Alpenfreifall, it was one of the most, if not the most incredible thing I've ever done. The staff were all so friendly, and had a fantastic sense of humour! My jump instructor from Brazil, was a total legend and a lot of fun. Thank you so much, Andy (from England)"
Andy Selby - 15.07.2022
"Ein sehr sehr freundliches Team, familiäres Umfeld und eine tolle Gegend. Ich würde gleich wieder springen. Ich danke euch für das super Erlebnis :)"
Maria Maringer - 06.07.2022
"Super freundliches Team ! Man fühlt sich gleich gut aufgehoben ! Der Sprung, sensationell, richtig geiler Adrenalin Kick 🤙🏼 Danke an die Jungs. Auf alle Fälle zum weiterempfehlen !!"
Philipp Tscholl - 02.07.2022
"Kurz vor dem Sprung war ich doch ganz schön nervös, aber das gesamte Team von Aplenfreifall war super gelassen und cool drauf, das ich mich doch sehr gefreut habe. Der Rundflug ist auch ein absolutes Highlight. Alpenfreifall ist auf jeden Fall weiter zu empfehlen. Vielleicht bis zum nächsten mal"
Franzi - 27.06.2022
"Super nett und freundlich, lässig, geben dir das Gefühl von Sicherheit, verständnisvoll, ... wir kommen sicher wieder! VOLLE EMPFEHLUNG! Es war ein traumhaftes Erlebnis!"
Wolfram Augustin - 23.06.2022
"Es war einfach wunderbar! Sehr zum empfehlen"
Elisa - 22.06.2022