Tandem skydive
the jump of your life
Interested in a tandem skydive in the Alps? Have you ever wanted to jump from a plane?
Experience freefall over lakes surrounded by mountains in Zell am See or Gmunden. Enjoy incredible panoramic views during the 20-minute plane journey to altitude. Tandem skydiving means 40 to 60 seconds of freefall.
Securely attached to a professional skydiving instructor, you'll plummet towards the ground from an altitude of 3000 to 4000 metres. You'll accelerate to speeds of up to 200 km/h before your main parachute opens. Once under canopy, you can admire the spectacular scenery and enjoy a birds-eye view of Lake Zell and Lake Traunsee.
Follow us and stay up-to-date
An unforgettable experience
you'll remember forever
Upon request, you can also get photos and an HD video of your tandem skydive as a keepsake.
Don't worry, you won't be jumping into cold water – we'll let you "hang in the air" instead. Alpenfreifall GmbH is Austria's first full-time tandem skydiving operation.
Breathtaking gift
for people of all ages
Give the gift of an unforgettable experience with a tandem ticket! It can be redeemed for any of our booking dates and is valid at each of our dropzones.
Please also take note of the requirements which the gift recipient must fulfil.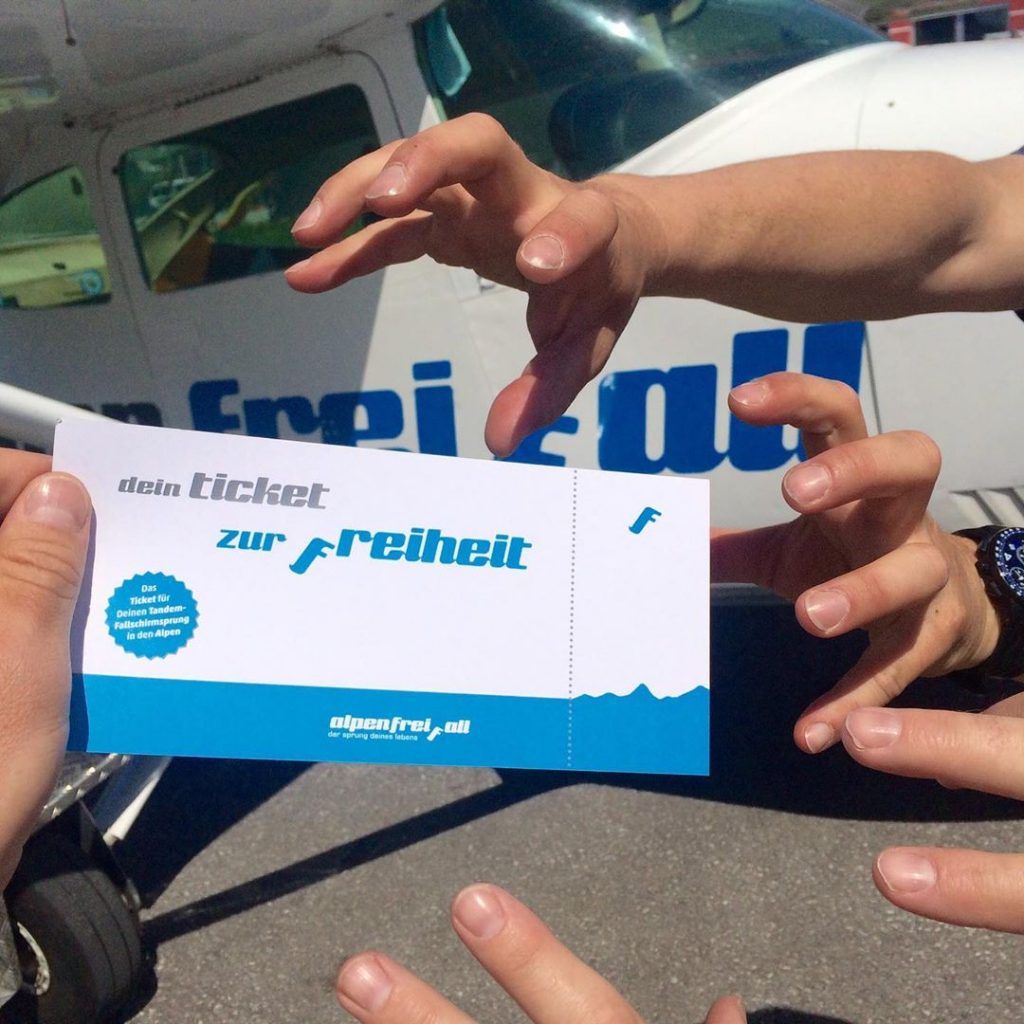 What do our customers say?
"Wir hatten einen super, entspannten Fallschirmsprung. Jederzeit wieder."
Tanja Kletzl - 29.01.2021
"Danke euch für dieses mega Erlebnis!! Es wird sicher nicht bei dem einen Sprung bleiben!! Freu mich schon auf nächstes Jahr!!"
Rafaela Reiter - 17.11.2020
"echt gstörte Erfahrung, tät ich sofort jedem empfehlen!"
Pippo Kommenda - 17.11.2020
"Total nette und herzliche Menschen Danke für dieses tolle Erlebnis 🙂 es hat so viel Spaß gemacht "
Pez - 14.11.2020
"super tolles Erlebnis, sehr nette und erfahrene Jungs! Hat echt Spaß gemacht!! Sehr zu empfehlen!"
Hubertus Herring - 10.11.2020
"Mega nette und entspannte Atmosphäre. Ich fühlte mich sicher und konnte das besondere Erlebnis sehr genießen! Ich komme gerne wieder 🙂 "
N H - 09.11.2020
"Einfach Mega Geil, sprang mit meiner Frau zur selben Zeit und wir waren vollauf Begeistert. Habe jetzt leider wieder zugenommen würde ansonsten sofort wieder mit Alpenfreifall springen. Danke ihr währt super "
Franz & Karin Kuschei - 08.11.2020
"Ein unvergessliches Erlebnis! Eigentlich hab ich ja extreme Höhenangst, wurde aber so gut abgelenkt, dass ich es fast vergessen habe. Der Moment wenn sich die Tür öffnet ist unglaublich. Sollte jeder mal erlebt haben! Super Team und tolle Betreuung! Gerne wieder"
Sylvia Deuschl - 08.11.2020
"Ich war mit allem zufrieden. Die Mitarbeiter waren sehr nett und haben dich im Flugzeug auch gut auf den Sprung vorbereitet. Sie ware ernst aber auch mit Spaß dabei und das macht einen sehr locker. Ich habe es aber auch sehr genossen, die Natur etwas anzusehen. Das war wunderschön. Ich würde auch gleich nochmal springen ist nur leider etwas zu weit weg. Ich habe es sehr genossen und bin froh, dass ich das erleben durfte. "
Natalie Gruber - 08.11.2020
"Super nettes und lustiges Team. Hatte einen tollen Tag und viel Spaß. "
Riki Aigmüller - 08.11.2020