Tandem skydive
the jump of your life
Interested in a tandem skydive in the Alps? Have you ever wanted to jump from a plane?
Experience freefall over lakes surrounded by mountains in Zell am See or Gmunden. Enjoy incredible panoramic views during the 20-minute plane journey to altitude. Tandem skydiving means 40 to 60 seconds of freefall.
Securely attached to a professional skydiving instructor, you'll plummet towards the ground from an altitude of 3000 to 4000 metres. You'll accelerate to speeds of up to 200 km/h before your main parachute opens. Once under canopy, you can admire the spectacular scenery and enjoy a birds-eye view of Lake Zell and Lake Traunsee.
Follow us and stay up-to-date
An unforgettable experience
you'll remember forever
Upon request, you can also get photos and an HD video of your tandem skydive as a keepsake.
Don't worry, you won't be jumping into cold water – we'll let you "hang in the air" instead. Alpenfreifall GmbH is Austria's first full-time tandem skydiving operation.
Breathtaking gift
for people of all ages
Give the gift of an unforgettable experience with a tandem ticket! It can be redeemed for any of our booking dates and is valid at each of our dropzones.
Please also take note of the requirements which the gift recipient must fulfil.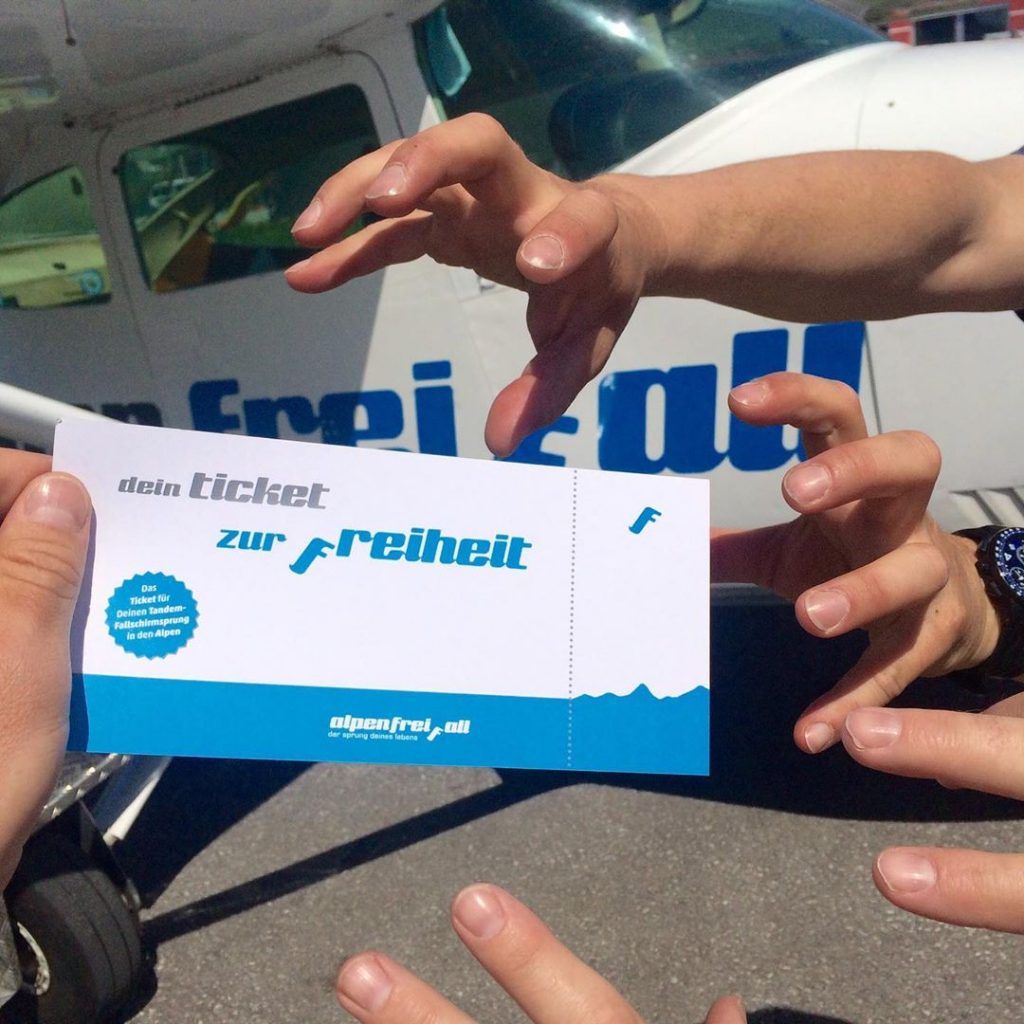 What do our customers say?
"Es war ein besonderes Erlebnis. Das ganze Team ist super sympathisch und zuvorkommend. Die beiden Tandemmeister sind super entspannt und cool drauf. Beide sind sehr freundlich und zuvorkommend. Es war ein unglaubliches Ereignis für jeden von uns und wir würden es jederzeit weiterempfehlen. Es war uns eine Ehre!"
Tobias Marsche - 12.06.2021
"Super Erlebnis, hammer Aussicht und top Organisation!! Aufgrund der nicht so guten Wettervorhersage, wurde uns sogar eine Verschiebung auf einen Tag vorher angeboten, bevor der ursprüngliche Termin hätte abgesagt werden müssen. Einfach klasse! Sich für Alpenfreifall zu entscheiden, war absolut richtig. "
Sabrina Borcherdt - 10.06.2021
"Supernettes Team, top professionell. freuen uns schon auf's nächste mal und die Fotos:) Danke für alles. Verena + Tom"
Tom Singer - 06.06.2021
"Sehr coole Leute, machen richtig gute Stimmung! "
Nicole Berlot - 05.06.2021
"He Leute, des war voll geil. Tatn mir sofort wieder mochn. Des Team vom Alpenfreifall sand alle voll nett und coole Socken. De Atmosphäre übern Zeller See und des Panorama is oanfoch herrlich. Danke für den Flug und de perfekte Landung."
Iris und Sarah Lackner - 05.06.2021
"It was incredible experience in my life. Thank a lot for the team,they are very nice and professional!"
Aliona - 05.06.2021
"Es war absolut grenz genial "
Manu Romano - 03.06.2021
"Jederzeit wieder! Das Team ist supernett und erklärt alles nicht nur genau, sondern auch so, dass man schon am Boden seinen Spaß hat. Und der Sprung toppt natürlich nochmal alles! "
Manuela Kitzbichler - 03.06.2021
"Sehr kompetent, freundlich und alles gut erklärt worden. Gerne wieder!!"
Ina Umundum - 03.06.2021
"einmaliger geiler erlebnis. werde wieder sicher kommen und wieder und wieder springen "
wonjun cho - 30.05.2021