Tandem skydive
the jump of your life
Interested in a tandem skydive in the Alps? Have you ever wanted to jump from a plane?
Experience freefall over lakes surrounded by mountains in Zell am See or Gmunden. Enjoy incredible panoramic views during the 20-minute plane journey to altitude. Tandem skydiving means 40 to 60 seconds of freefall.
Securely attached to a professional skydiving instructor, you'll plummet towards the ground from an altitude of 3000 to 4000 metres. You'll accelerate to speeds of up to 200 km/h before your main parachute opens. Once under canopy, you can admire the spectacular scenery and enjoy a birds-eye view of Lake Zell and Lake Traunsee.
Follow us and stay up-to-date
An unforgettable experience
you'll remember forever
Upon request, you can also get photos and an HD video of your tandem skydive as a keepsake.
Don't worry, you won't be jumping into cold water – we'll let you "hang in the air" instead. Alpenfreifall GmbH is Austria's first full-time tandem skydiving operation.
Breathtaking gift
for people of all ages
Give the gift of an unforgettable experience with a tandem ticket! It can be redeemed for any of our booking dates and is valid at each of our dropzones.
Please also take note of the requirements which the gift recipient must fulfil.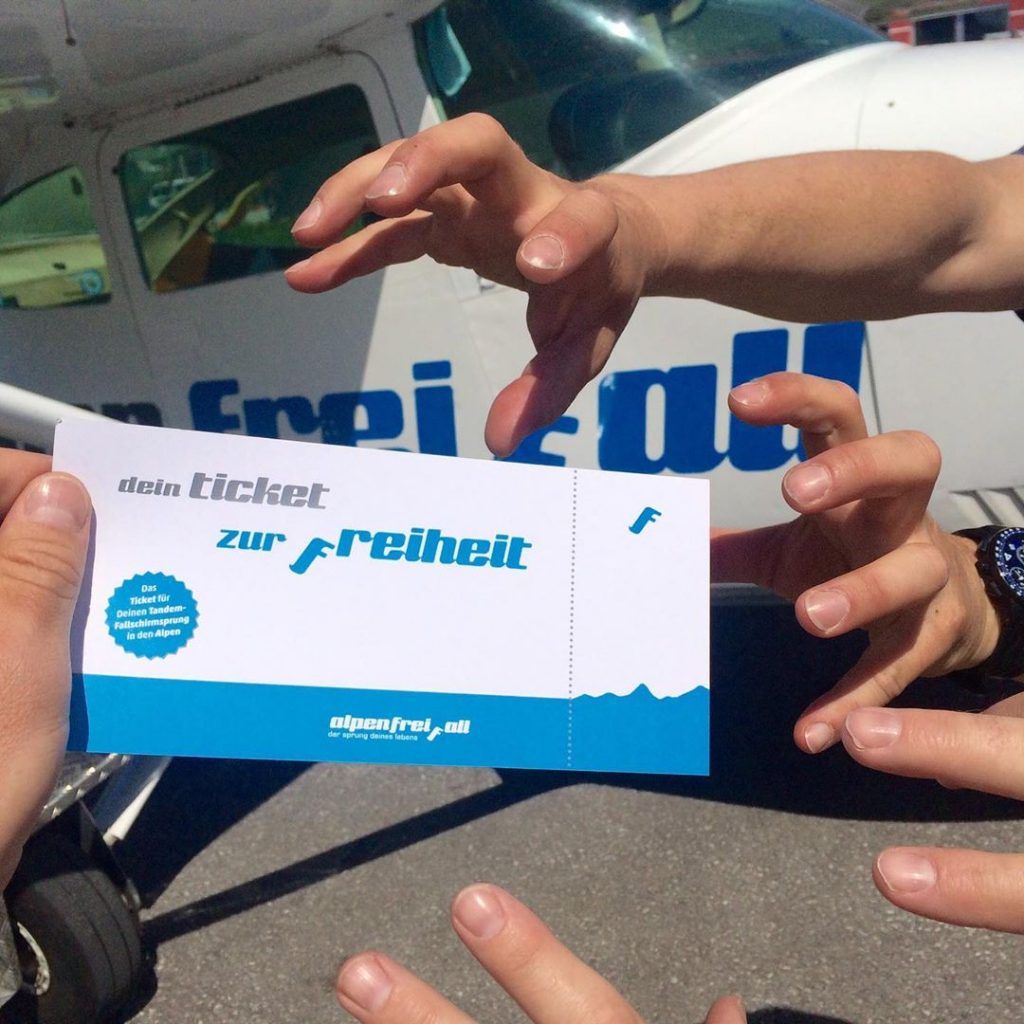 What do our customers say?
"Liebes Alpenfreifall Team, ich kann mich nur noch mal aus vollem Herzen für dieses unglaubliche Erlebnis bedanken! Ihr seit TOP! Die Fotos und das Video der Brüller und ich hätte nie gedacht das ich tatsächlich über meinen Schatten springen kann 🙂 Ich würde es sofort wieder tun!! Ganz liebe Grüße Romana"
Romana Strauß - 19.05.2022
"Super Erfahrung, ganz freundliche Menschen. Einfach super"
Anonym - 15.05.2022
"Es war einfach unbeschreiblich! Meine Aufregung konnte mir sehr schnell durch das professionelle Team genommen werden und ich habe mich sehr gut aufgehoben und sicher gefühlt! Ein riesiges Danke!!! 😊🪂"
Melanie Grill - 15.05.2022
"Kann ich nur weiter empfehlen ganz tolle Jungs , habe mich sehr wohl gefühlt und das wichtigste bei einem Fallschirmsprung ich habe mich zu 120 Prozent sicher gefühlt . Nochmals vielen Dank für einen so schönen Tag an das Alpenfreifall Team !"
Martina Schmid - 15.05.2022
"Wahnsinn es ist das coolste was ich je erlebt habe kann es nur weiterempfehlen herzlich Danke an das Team. Lg"
Patricia Erlac - 14.05.2022
"Toller Sprung, vorbereitung & Einschulung waren Top, werd ich sicher nochmal machen, adrenalinsprung pur🥰"
H. E. - 09.05.2022
"Freundlich, kompetent und top organisiert. Es war ein richtig cooles Erlebnis! Dankeschön und bis zum nächsten Mal "
Kevin Strauß - 02.05.2022
"Mein erster Sprung, der mir immer in wahnsinnig guter Erinnerung geblieben ist. Ein tolles Team, vielen Dank für das Erlebnis!"
Pauline Schneider - 20.11.2021
"War mein erster Sprung. Ich fühlte mich sehr gut aufgehoben und sicher.... Ihr seit einfach Spitze!!"
Romana Druckenthaner - 01.11.2021
"Die entspannte und professionelle Art des ganzen Teams lässt kaum Nervosität aufkommen- so war es einfach nur genial! Vielen Dank!"
Anonym - 31.10.2021